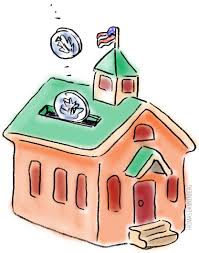 There are several ways you can support our school throughout the year!
1. By linking your grocery purchases at Publix and Kroger to Sylvan Park Paideia School, a percentage of every purchase is donated to our school. The same goes for your Amazon purchases. It only takes a few moments to link an already existing account (or to create a new account to link) to Sylvan Park.
2. Did you know that saving your Coke product codes from plastic bottle caps, cardboard boxes, and Costco cases can help our school? Same goes for Box Tops! By simply bringing in the Box Top located on many name brand product packaging such as General Mills cereal, Lysol cleaner, Hefty trash bags, and MANY more, you can help our school!
3. Don't know what to do with those empty printer ink cartridges or old cell phones and/or laptops? Bring them to Sylvan Park! Recycling these items not only helps the environment but also our school!
Simply follow the instructions here to create/link your accounts to Sylvan Park and to learn more details about ways to support our school! While these donations may seem small, over the course of a year, they can add up to a significant amount. As always, thank you for your support! And don't forget to let your friends and family know too!
Weekly Spotlight: AMAZON
To create an online account with Amazon: Click ​here​.

To link your Amazon account to Sylvan Park:
1) Go to ​smile.amazon.com​.
2) Enter your Amazon account credentials.
3) Find "Your current charity" then click "Change Charity."
4) Search for "Sylvan Park Elementary."
5) Select Sylvan Park.

Tip: ​ Always ​shop at smile.amazon.com. In order for Sylvan Park to receive a percentage of sales, you must purchase online through ​smile.amazon.com ​(not amazon.com).

Try these 2 easy ways to start with a smile. ​Learn about AmazonSmile​.
1. Create a bookmark to your bookmarks or favorites bar to create a shortcut to smile.amazon.com.

2. Add smile.amazon.com link on your phone's browser or shortcuts—that way you're still donating even when shopping on the phone.