Even though the school year is ending differently than we'd imagined, we still want to try to send the fourth graders off to middle school in style. We will celebrate Fourth Grade Day on May 20th!

Slideshow We plan to create a digital slideshow to commemorate the kids' elementary school years. Please submit photos of your student and their time at Sylvan Park to the class links below. We ask for no more than 5 photos per student, and we want to make sure everyone is included in the slideshow. All photos are due by May 10th, 2020.
Ms. Banik's class: https://www.dropbox.com/request/odjTB7X4QczPWXfRFIJ8
Ms. Bray's class: https://www.dropbox.com/request/gqSBWZIcbon6XsZEkhQK
Ms. Eberle's class: https://www.dropbox.com/request/4h5IfYPgHPfq575Xg0QV

Talent show We are also going to hold a virtual talent show. Ask your student to start planning their performance now. Remind them that performances will be limited to 2 minutes and content must be school appropriate! All videos must be uploaded to flipgrid by May 13th, 2020. You can either record it directly to Flipgrid or upload a video by clicking the green plus button.
https://flipgrid.com/cb109e93
Use your teacher's last name as the password/ID to get in.

Fourth Grade Day t-shirts We will be sending the kids off with a t-shirt marking their last year at Sylvan Park. Shirts are $8 each. Shirts will either be delivered to students or available for pickup if/when we can get into the school to retrieve our student's belongings. Every student will get a shirt, so if you're able to fund one for your student and a friend, please send size and payment here: paypal.me/annetteashley or Venmo: @Annette-Ashley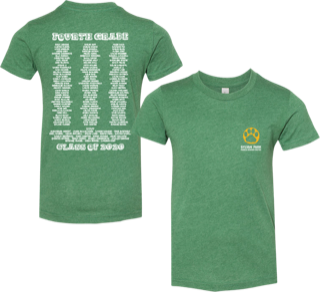 Graduation parade We are exploring some sort of distance graduation parade. This idea will continue to take shape as the shelter in place order evolves. But if you want to learn more or are interested in participating, please fill out this form. You can also indicate your student's t-shirt size on the link.

If you're interested in helping or have any questions, please send an email to lindsayfa@gmail.com.