The Fun Run is next week! In celebration of our fundraising campaign, all students will participate in the Panther Pride Fun Run on Friday, Oct. 4. Each grade will go to the outdoor playground/track area during their Related Arts time to run/jog/skip/walk and celebrate together on the track! We invite all family members to attend, if able, to join in on the school spirit and celebration!
Fun Run Schedule Oct. 4
Kindergarten 12:40-1:40
1st 9:00-10:00
2nd 11:10-12:10
3rd 1:45-2:45
4th 10:05-11:05

To make our first Fun Run a success- we need adult volunteers from each grade level to help set up, breakdown, keep everyone safe and administer first aid. Please consider lending a helping hand for one hour: sign up here to volunteer.
Leading up to the Fun Run- we will celebrate with Fun Run Spirit Week!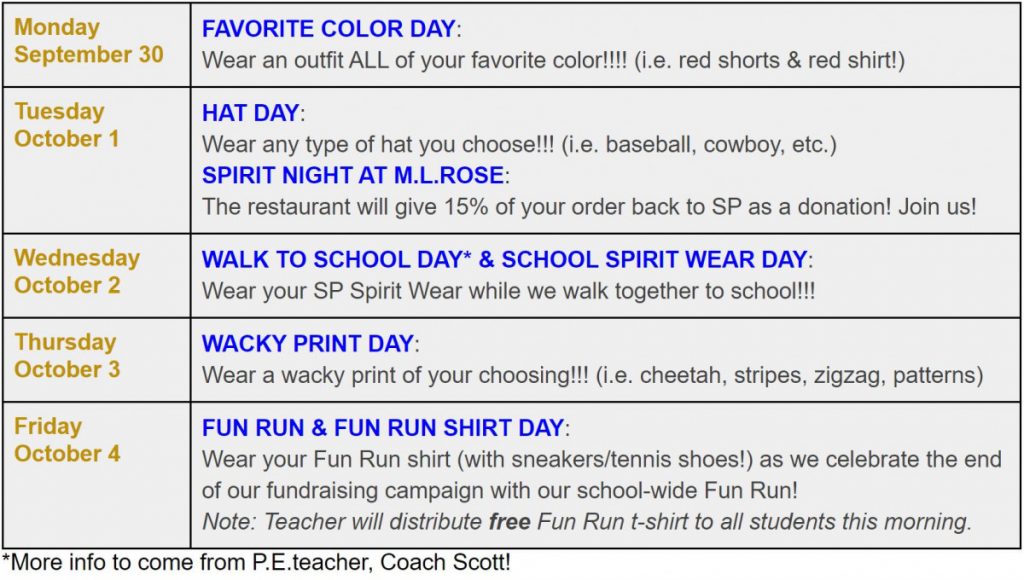 Encourage your student to participate and we hope to see you, too!