Thanks to your clipping Box Tops, we just submitted 1600 Box Tops, earning us $160 from General Mills! Thank you! Extra shout out to a few of you who clipped, counted and wrote the number on the bag!

Don't forget– Box Tops for Education is going digital and phasing out the Box Top clipping. If you see the Box Top logo on your product that looks like the bottom logo in this image, you must find your RECEIPT and scan it through the new Box Top app. Download the Apple app or the Google Play app.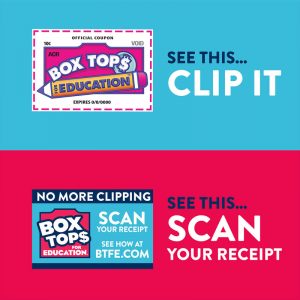 As an incentive to get people converted to the new scanning method, from now until November 15, all receipts scanned into the app with box tops on them enter our school into a contest toward a $20,000 school makeover.

Keep up the good work! Every Box Top redeemed counts! Thank you!